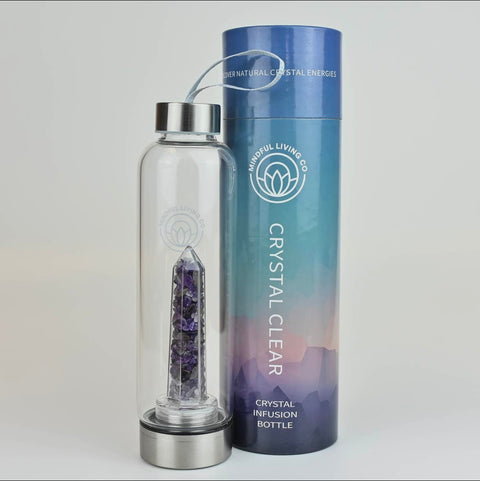 https://thewellnessroute.ca/
Grounding + Protection Glass Water Bottle
Activate your drink with Crystal Clear energies
Embrace the healing properties of crystals with our NEW Crystal Clear Water Bottle Blends, infused with natural gemstones. Simply choose your preferred crystal combination and add water to create an elixir filled with natural energies.
Obsidian (a shiny black crystal) has long been associated with protection and strength. It has been used in many cultures to ward off evil spirits or ill intentions from others. We've teamed this with protective Amethyst, which is great during times of flux and uncertainty, and Clear Quartz for mental strength and clarity.
Often referred to as the 'Master Healer', Clear Quartz is said to bring balance to our physical, mental and emotional states, and is helpful for when perspective and grounding is needed.
Each Mindful Living Crystal Water Bottle comes in retail-ready packaging, great for gifting. BA & Lead-Free, with NO harmful plastic or toxins.
Made from glass and holds 550ml/180z of liquid.