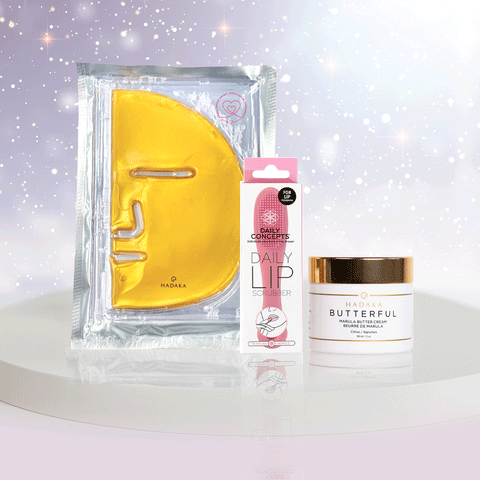 https://thewellnessroute.ca/
Pre-Glam Kit
24KT Gold Face Mask 
The ultimate collagen boosting face mask for all skin types. With celebrated Hyaluronic Acid, Vitamin A and Collagen.
It transforms the look of dry, dull skin and leaves it feeling hydrated and refreshed.
Formulated with active ingredients rich in antioxidants like Grape and Plum Seed extract, it promotes elasticity, fights against premature signs of aging and protects skin from harsh environmental stressors and free radicals.
Can be reusable up to 2-3 times and is best paired with WANDLOVE Face Roller to help massage the ingredients of the mask onto the skin for deeper hydration.
Lip Scrubber 
The Daily Lip Scrubber is a silicone-textured lip brush that gently exfoliates to create soft, plump, and smooth lips. 
Butterful Body Lotion
Replenish and rejuvenate the skin when you apply BUTTERFUL. Made with Marula Oil, Shea Butter and Vitamin E, it will help to repair damage caused by pollutants, reduce the appearance of maturing skin, and deeply moisturize it.
This body butter has a rich and creamy texture that melts into the skin, leaving it feeling smooth, soft, silky and with a healthy sheen.