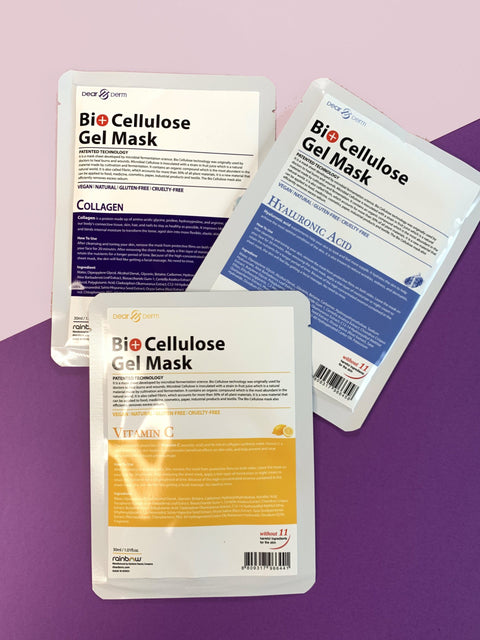 https://thewellnessroute.ca/
Sheet Mask Trio- Vitamin C, Collagen, Hyaluronic Acid
Bio-Cellulose technology was originally used by doctors to heal burns and wounds. Microbial Cellulose is inoculated with a strain in fruit juice which is a natural material made by cultivation and fermentation.
Collagen is a protein made up of amino acids: glycine, proline, hydroxyproline, and arginine, all of which help our body's connective tissue, skin, hair, and nails to stay as healthy as possible. It improves blood circulation and binds internal moisture to transform the loose, aged skin into more flexible, elastic skin.
Hyaluronic Acid  help your skin to look and feel more supple. It hydrates the skin to help achieve the most optimal condition of the skin. It is also known to reduce wrinkles, redness, and dermatitis.
Vitamin C The antioxidant properties of Vitamin C (ascorbic acid) and its role in collagen synthesis make vitamin C a vital molecule for skin health. It also provides beneficial effects on skin cells and help prevent and treat ultraviolet (UV)-induced photodamage.