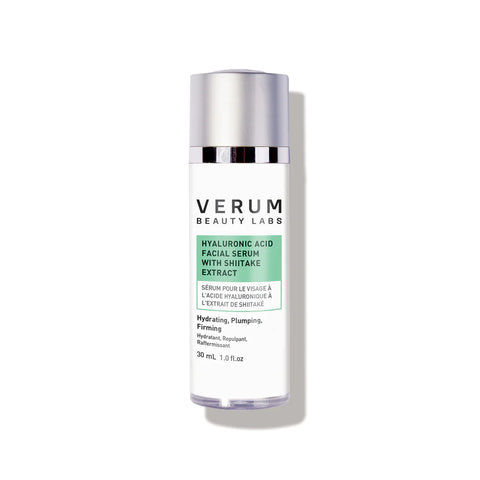 https://thewellnessroute.ca/
VERUM Beauty Labs - Hyaluronic Acid Serum with Shiitake Extract
Contains a specialized combination of hydrating hyaluronic acid and panthenol and skin-calming shiitake extract that penetrates skin's surface to help lock in moisture, keeping skin hydrated and ultimately moisturized.
Replenishes moisture content on the skin surface and in deeper skin layers for a plump, supple and noticeably smoother appearance. With consistent use of this pH-balanced formula, you will notice a firmer and brighter complexion.
Key ingredients we have used are -
• Hyaluronic Acid – binds to water and increase skin hydration on skin surface and into deeper layers of epidermis. High molecular weight (HMW) and low molecular weight (LMW) Hyaluronic Acid are part of the formula to provide hydrating benefits on the top layer of the skin by HMW and in deeper layers by LMW.
• Shiitake mushroom extract – rich in antioxidants and selenium that can decrease irritation and calm inflammation and a natural source of kojic acid, a skin lightener.
• Panthenol, known as pro-vitamin B5, is a humectant that attracts and hold moisture, thus increase skin hydration level.
Scientific evidence:
According to JDD, JDD, 01 Sep 2011, 10(9), Topical application of all 0.1% HA formulations used led to significant improvement in skin hydration and elasticity. Application of low-molecular-weight (LMW) HA was associated with significant reduction of wrinkle depth, which may be due to better penetration abilities of LMW Hyaluronic Acid.