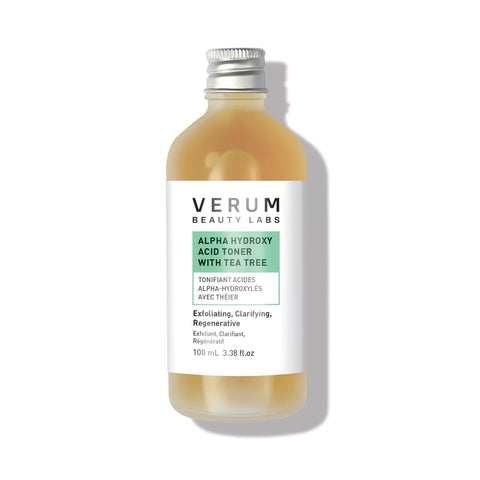 https://thewellnessroute.ca/
VERUM Beauty Labs- Alpha Hydroxy Acid Toner with Tea Tree
A gentle leave-on exfoliant with Alpha Hydroxy Acid to help shed the top layer of dead skin cells, increase the rate of cell turnover, brighten and even-out skin tone.
Our fluid exfoliant has a lightweight texture that is absorbed quickly to gently exfoliate and balance oily and acne-prone the skin.
Contains AHA (alpha hydroxy acid) which helps shed built-up layers of dead skin cells and clear and minimize enlarged pores, making oily areas less noticeable and skin more even, smooth, moisturized, and protected.

Key ingredients we have used are:

• A blend of five natural plant extracts: blueberry fruit extract, sugarcane extract, orange fruit extract, lemon fruit extract, and sugar maple extract that contain four alpha-hydroxy acids (30% lactic acid, 12% glycolic acid, 2% citric acid, 0.5% tartaric acid). This blend of natural botanicals creates a highly effective exfoliant, shedding off the outermost layer of skin cells (corneocytes)

• Tea Tree oil – an efficient agent for acne relief due to its antimicrobial activity

• Antibacterial Manuka Honey – Alleviates local inflammation caused by acne and speeds up the healing process

Scientific evidence:
Study published in International Journal of Cosmetic Science 16,265-272 (1994), indicated a 34% increase in the rate of cell turnover in vivo by topical application of fruit acid blend consists of blueberry fruit, sugarcane, orange fruit, lemon fruit, and sugar maple extracts.
Ingredients 
Aqua, Melaleuca Alternifolia (Tea Tree Water), Hammamelis Virginiana (Witch Hazel) Water, Aloe Barbadensis Leaf Juice, Vaccinium Myrtillus (Bilberry) Fruit Extract, Saccharum Officinarum (Sugar Cane) Extract, Acer Saccharum (Sugar Maple) Extract, Citrus Aurantium Dulcis (Orange) Fruit Extract, Citrus Limon (Lemon) Fruit Extract, Glycerin, Chamomilla Recutita (Matricaria) Flower Extract, Sodium Benzonate, Potassium Sorbate, Water, Manuka Honey Extract, Sodium Benzoate, Citric Acid, Glycerine, Salix alba L. (White Willow Bark), Benzyl Alcohol, Salicylic Acid & Glycerin, Sorbic Acid