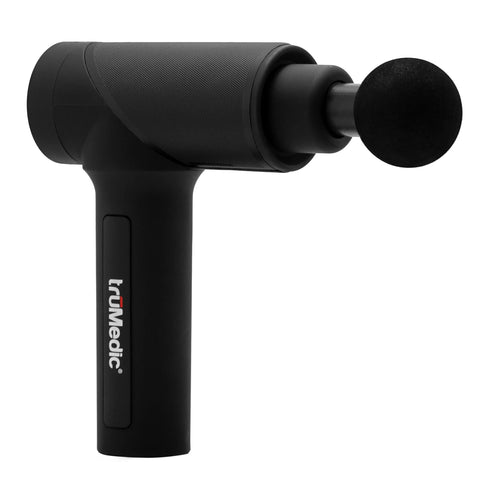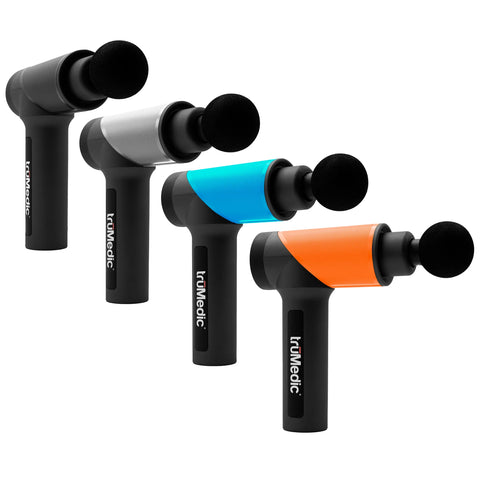 https://thewellnessroute.ca/
truRelief™ IMPACT Therapy Device Ultra Portable
Powerful Relief that is Effective

This ultra portable device is powerful to help provide relief to sore muscles by:  
Stimulating the blood flow to affected areas of the body

Delivering quick taps of energy that help muscles and break up knotted tissue
Incredibly Quiet, Brushless Motor

The device is powered by an incredibly quiet, brushless motor that won't disrupt people around you. The powerful device helps targets deep into muscle tissue to break up knots and get the kinks out. 
Interchangeable Impact Therapy™ Heads 
The 6 interchangeable Impact Therapy™ heads are designed to target and relieve soreness, aches and pains. The truMedic® truRelief™ Impact Therapy™ Device Ultra Portable can: 
Warm up muscles before you work out

Help you relax after a strenuous activity

Get the knots out of every sore muscle
Customize Your Intensity Setting
Select from six frequency settings to change the force and speed of your Impact Therapy™. This is done comfortably without putting stress on your hands or wrists, allowing you to:
Customize the intensity from low to high for your specific needs
Long-Lasting Battery

The truRelief™ Impact Therapy™ Device Ultra Portable lasts for hours on a single charge, so you won't need to worry about charging it after every use. The average run-time on a single charge is up to 3 hours depending on speed level and pressure applied during use. The device includes a rechargeable battery and is cordless to travel easily.