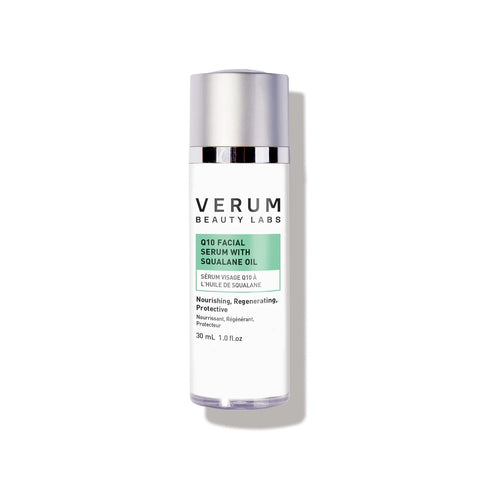 https://thewellnessroute.ca/
VERUM Beauty Labs- Q10 Facial Serum Squalane Oil
Rich in nutrients and bioactive ingredients, this vegan facial serum was formulated to address all aspects of skin lacking firmness and elasticity.
For normal to dry and aging skin.
Rich in nutrients and bioactive ingredients, this vegan facial serum address all aspects of skin aging. This transformational serum works to soften the skin, enhance elasticity and boost skin protection against reactive oxygen species with rich supply of antioxidants.

Plant-derived sources of Omega 3, 6 and skin-identical emollient Squalane and other soothing ingredients visibly reduce signs of aging.

Targets fine lines, dry, flaky and dull skin


Key ingredients we have used are -
• Coenzyme Q10 – A powerful antioxidant and helps slow down the aging process.
• Squalane – extracted from sugar cane, restores skin suppleness and works to prevent moisture loss.
• Rosehip Oil - source of skin-calming phytosterols and essential fatty acids, primarily linoleic and linolenic acids, which help protect and replenish skin's vital barrier.

Essential oils content – 0.3

Scientific evidence:
Study described in Biofactors Nov-Dec 2015;41(6) concluded that topical Q10 treatment is beneficial with regard to effective Q10 replenishment, increase of cellular energy metabolism, and antioxidant effects. The results demonstrated that stressed skin benefits from the topical Q10 treatment by reduction of free radicals and an increase in antioxidant capacity.